UPDATE: LAPSUS$ are far from letting up when it comes to their hilarious and outrageous demands of NVIDIA, as the group responsible has supposedly leaked the source code and all necessary information regarding NVIDIA's DLSS.
Because of course the worst thing imaginable would be for the goyim to discover that NVIDIA's regressive DLSS technology doesn't necessarily require the "Tensor" cores that lie beneath their GeForce RTX GPU's in order to provide artifact induced smearing that's "better than native".
But also LAPSUS$ have made yet another demand of NVIDIA, and that demand would be for them to distribute open-source GeForce drivers for Windows, macOS and Linux moving forward. Such a demand will never bode well for NVIDIA and CEO, Jensen Huang who has become a tyrannical tyrant of proprietary goods and services.
The great thing about this is obviously imagining what's going on inside the minds of NVIDIA's CEO and executives as LAPSUS$ pick apart and leak such highly confidential data. Because I for one am enjoying this shit show unfold because I know NVIDIA will never kneel to any of the demands made by the group.
NVIDIA will never cave nor will I ever stop laughing, give them hell LAPSUS$.
Original Article: First and foremost, open-source NVIDIA drivers anyone? As much as I'd hate to say that will NEVER happen, it's probably more likely than you'd think following a data breach of NVIDIA as hackers run off with a whole lot of crucial data…. allegedly.
A couple of days ago, NVIDIA suffered a cyber attack where over 1TB of data was exfiltrated from their servers. The group responsible for such a feat come off as stupid spics more than individuals capable of pulling something of this magnitude off, especially at a time of Yiddler conflict resulting in the deaths of slavs.
The group responsible for the breach goes by "LAPSUS$", a South American group who was rather quick to lay claim to their mischief on Telegram, because of course for anyone doing such illegal activities they'd aught to use controlled opposition in the form of Telegram.
LAPSUS$ claims that they've infiltrated NVIDIA systems for around one weeks time, during such period they managed to obtain over 1 TB of critical data assets such as schematics, private tools and potential SDK's for the likes of PhysX, DLSS and more.
Not only that but the group claims to have obtained NVIDIA documentation on top of NVIDIA drivers and firmware, such as their Falcon security.
However one of the most critical assets that LAPSUS$ have managed to obtain would possibly be a way of bypassing NVIDIA's Lite Hash Rate (LHR), at least for GA102 and GA104 based graphics cards that the group claim to be selling.
Because of course a bunch of no-good spics would adhere more to the likes of digital currencies, the group's threats seemingly fall apart as LAPSUS$ make ridiculous demands from NVIDIA.
LAPSUS$ want payment, of course when other companies, generally smaller suffer from a dramatic data breach where extremely confidential and proprietary assets are stolen and generally ransomed off, nobody ever falls for such obvious bullshit.
It's a lose-lose situation whether NVIDIA decides to actually pay the ransom set by LAPSUS$, because I'm sure as hell that the pinoys of LAPSUS$ would certainly copy and retain such data if anyone ever decided to pay them. They'd simply walk with funding in hand along with valuable assets to flip.
Negotiating with such criminals is entirely pointless, LAPSUS$ are behind the times on that one.
The group claims that they wish to help both the mining and gaming communities, and what better way of doing so than to make the outrageous demand for NVIDIA to remove the LHR limits on all of their Lite Hash Rate models, because of course if they have managed to bypass the restriction on GA102 and GA104 why exactly would they demand NVIDIA to remove LHR themselves? Smells like bullshit to me.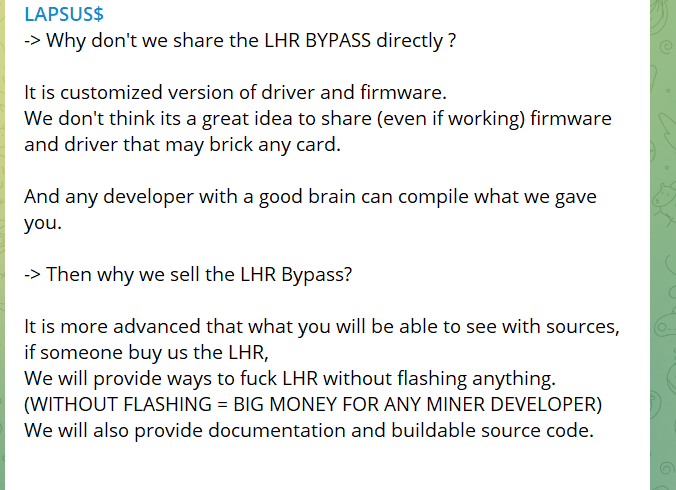 LAPSUS$ make the claim that LHR also impacts gaming, which of course is complete and utter fucking baloney.
Exactly who benefits from NVIDIA usurping their bullshit ETH mining limiter anyway? Considering that the current DIY market remains beyond fucked at this stage and miners aren't even to blame anymore for that, the only ones who'd benefit would be those looking to sell their RTX 3000 series Lite Hash Rate models on the second hand market because certainly used LHR GPU's would shoot up in value from being able to mine Ethereum at proper hash rates.
The group apparently has already released some data pertaining from the data breach of which I'm going to recommend obtaining the package for yourself if at all possible.