A brand new entry level graphics card, Zen 3D(isappointment), Cancer BGA mobile trash and a sneak peak at Zen 4 for 2H 2022?
AMD's CES 2022 coverage is literally packed with goodness, at least at first glance that is and yet somehow in typical AMD fashion they somehow manage to turn all of that upside down.
First on the chopping block for AMD's CES 2022 product reveal is the Ryzen 6000 Mobile APUs, featuring an optimized "Zen 3+" architecture bringing a stellar performance uplift over previous generation Mobile CPU's with Vega finally being cast to the wayside with RDNA 2 based graphics solutions being ushered in.
AMD are once again highlighting the demise of the DIY PC market which has been steadily losing momentum (and shipping volume) for horrendous mobile BGA cancer, such is the case with the Ryzen 6000 Mobile Series utilizing TSMC's 6nm processing node for enhanced efficiency and performance.
With "Zen 3+" cores featuring RDNA 2 integrated graphics and built on TSMC's 6nm process featuring a maximum of 8-cores and 12 CU's with boost frequencies peaking at 2.4GHz (graphics) and the illusive 5GHz barrier for the CPU needless to say that the Ryzen 6000 mobile series kicks some serious ass without much issue or competition.
And that's exactly what it does, with the Ryzen 6 6800U absolutely thrashing the previous generation 5800U in video encoding, 3D rendering and gaming by crushing figure, over double the performance in some cases.
In comparison to the previous generation Cezanne CPU's, the Zen 3+ based Ryzen 7 6800U provides a whopping 28% improvement in multi-threaded performance and 11% in single threaded.
When it comes to actual gaming performance, the RDNA 2 based graphics blows everything else into the last decade, with stellar performance gains over Intel's Core i7 1165G7 featuring Intel's Xe-LP integrated graphics packing 96 EU's.
The Ryzen 7 6800U also crushes discrete solutions such as NVIDIA's MX450, a vastly cucked GTX 1650 based solution for low power notebooks. Absolutely thrashing the competition by as much as 303% on DOOM Eternal as it trickles down to 146% and 78% on consoomer friendly titles such as CS:GO and Fortnite, while still offering vast performance benefits of 61% on the faggotry Watch Dogs Legion and 37% on The Witcher 3 and just 20% on DOTA 2 with Vulkan.
The Ryzen 6000 Mobile Series is also entirely capable of utilizing the latest from AMD such as FidelityFX Super Resolution or FSR, which when enabled on the Ryzen 7 6800U can improve performance greatly from as little as 29% on Godfall to as much as 56% on Call of Duty Vanguard.
With the addition of FSR, mobile gaymers can now enjoy seamless 1080p gaming targeting 60 frames per second without much issue, what was once an ideal imagination just a few short years ago has now been made a reality.
The presentation then devolves into supported features with Ryzen 6000 series mobile devices such as USB 4.0, AV1 Encoding and PCIe Gen 4, followed by various laptops packing in these new Ryzen Mobile APUs, of which there are many.
Availability for the Ryzen 6000 series won't happen until February however.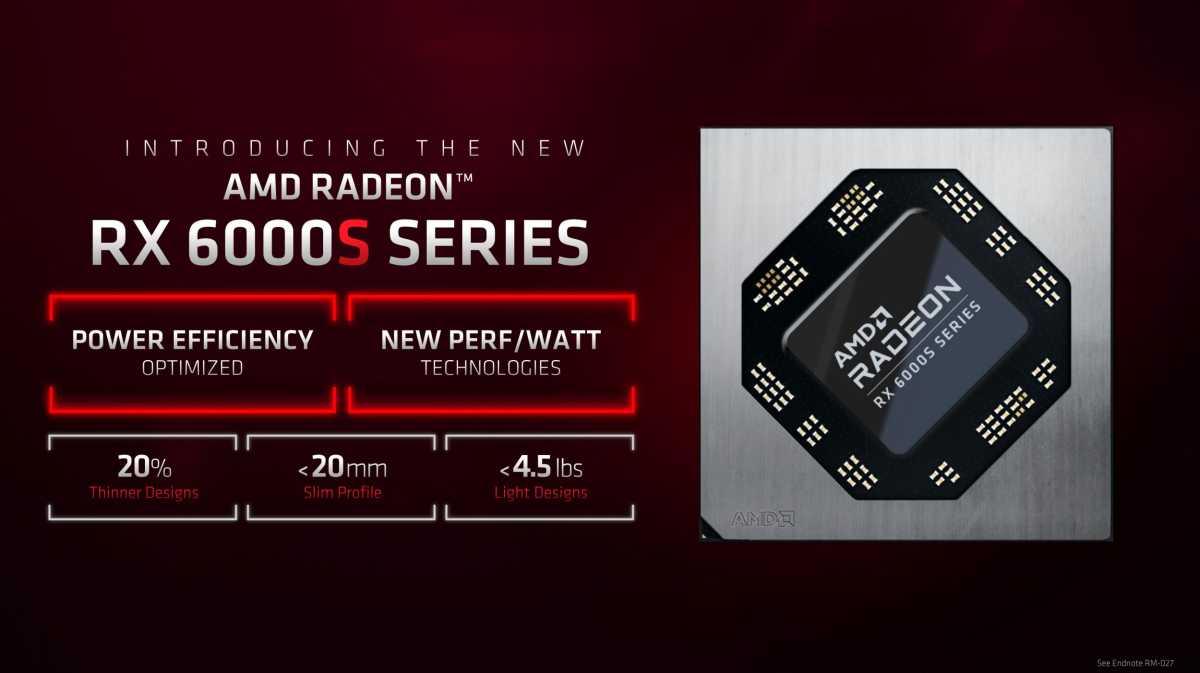 Because craptops are the future, we're then given a presentation on how AMD drives gaming forward with technologies such as FreeSync and FSR before we're given an introduction into AMD's rather woeful RX 6000 series of Mobile Graphics Cards, with the announcement of the RX 6000S Series of Mobile GPU's targeting next-generation thin laptops.
It's all downhill from here I'm afraid.
With the inclusion of the RX 6000S series of mobile graphics, AMD also takes a page straight from NVIDIA's playbook by ushering in a plethora of new SKU's for its mobile GPUs such as the 6850M XT, 6650M and XT with new entry level variants such as the 6300M and 6500M.
The RX 6000S series is for slimmer more thinner craptops while the RX 6850M XT is set to be around 7% faster than the previous flagship mobile GPU, while the main improvements come from the RX 6650M XT which is set to be 20% faster than an RX 6600M. New entry models such as the RX 6300M and 6500M are to be built on the same TSMC 6nm processing node as the Ryzen 6000 series APU's discussed up above.
The RX 6300M and 6500M are woeful entry level garbage, with 2GB and 4GB of GDDR6 memory respectively, however with very low TGP values of 25-35W they're not so bad if you're harnessing your power source from a potato farm.
The main improvement from the RX 6850M XT comes from slightly higher clockspeeds with faster memory providing much more bandwidth, all for for 7% performance benefits. Could've slotted in Navi 21 core to at least be competitive but I digress, mobile devices are becoming increasingly popular and so the milking of its market only becomes greater.
But of course, it doesn't end there with just shitty mobile graphics cards, AMD really aught to do something about this bullshit pandemic shortage we find ourselves in with the DIY PC market which has been dying a painful death for a number of years now.
Because you can't buy anything else, AMD swoops in to save the day for the entry level gaymer with the RX 6500 XT featuring 1024 SP's of RDNA 2 goodness, with game clocks coming in at 2.6GHz featuring 16 MB's of Infinity Cache with 4GB of GDDR6 memory across a 64-bit memory interface, this bad boy is capable of 144GB/s of memory bandwidth.
Much like its mobile variant, the RX 6500 XT is also based on TSMC's 6nm process where it provides immense efficiency gains with a TDP value of just 107W.
Targeting the 1080p gaymer, the RX 6500 XT provides solid performance uplifts over the soon to be five year old RX 570 and the cancerous GeForce GTX 1650 offering performance advantages from 23-59% at 1080p high across many popular shitty games.
This is most certainly the graphics card for you if you're looking to embrace regressive technologies by "upscaling" on your 1080p display.
Available January 19th with an MSRP of just $199, providing that retailers don't gouge the RX 6500 XT into oblivion it should be a solid entry level option all things considered.
AMD also swept under the rug the Radeon RX 6400, probably destined for OEM machines regarding that it only offers 12 CU's / 768 Stream Processors with only 16Gbps GDDR6 memory as opposed to the 18Gbps found on the RX 6500 XT. The Radeon RX 6400 has no known performance characteristics but at least it has a TDP value of just 53W so once again we have a solid option for PCIe power only.
Last but not least we're handed back to AMD CEO, Lisa Su who showcases the Zen roadmap before announcing what we've been waiting for…. Zen 3D and perhaps a sneak peak at the next generation Zen 4 architecture.
Zen 3D features 3D stacked cache or "V-Cache" technology which will most certainly benefit performance immensely, after-all…. cache is CASH.
Previously, AMD showcased a demo unit of V-Cache's performance benefits by comparing Ryzen 9 5900X CPU's with and without 3D stacked cache providing massive gains in gaming with 15% being the average.
This of course led to a lot of hype for AMD to re-release Zen 3 CPU's featuring this V-Cache technology as it'll cement its gayming performance dominance crushing Intel's Alder Lake without issue at least until the release of AMD's Zen 4 architecture which is certainly bound to make Raptor Lake ancient history.
But atlas, AMD like every other Yiddler corporation exists to make money and please investors, what was hyped to be a massive revitalization of the Ryzen 5000 series and serve as the send-off the never-ending AM4 platform deserves has turned into a sleazy one-off to secure the gayming performance crown and to maximize profitability.
When the Ryzen 5000 series was first announced, consumers were outraged over the price increases compared to previous generation Ryzen CPUs, with the Ryzen 7 5800X baring most of the brunt with its MSRP of $449 compared to previous iterations for $399 for the 800 SKU or even $329 for the 2700/3700X.
Currently however you can find a 5800X for much less than $449 but it's not exactly the CPU that consumers really give a flying fuck towards, it serviced as a gap in the product range to upsell you for the then $549 12-core Ryzen 9 5900X whereas the 6-core 5600X could be had for $150 less than the 8-core.
There's no complete range of products for Zen 3D, just the Ryzen 7 5800X3D. That's all you're getting, the worst possible SKU imaginable in the eyes of consumers but the best possible SKU when it comes to profits.
Because it shouldn't come as a surprise as to why AMD would utilize the 5800X over the likes of the 5900X or more affordable culled 5600X.
Because all they need to do right now is thrash Intel's Alder Lake in gaming, that's it. Why bother with the dual-CCD design of the 12/16-core Ryzens when those chips are far better off being used for Milan-X.
You should know that EPYC 3D is doing to be in super high demand, fuck consumers. You can settle for the one-off octa-core which nobody who bought a CPU over the last two plus years wouldn't consider to be a meaningful upgrade.
When the Ryzen 5000 series first launched the only CPUs that were going out of stock constantly were the 6-core Ryzen 5600X and the 12-core 5900X, literally nobody wanted the 8-core dung that was the 5800X back then and I certainly don't want it now in the form of the Ryzen 7 5800X3D.
Featuring an additional 64MB of cache and minus 200MHz in overall frequencies, the 5800X3D is all AMD needs to secure the performance crown.
And it does so effortlessly, with marginal to solid gains over a standard Ryzen 9 5900X of which nobody with enough braincells to rub together would dare downgrade to the 8-core gayming processor.
AMD are preserving Zen 3D for Milan without a doubt, perhaps even protecting sales for their upcoming Zen 4 which is scheduled sometime within the second half of 2022, though I wouldn't be all that surprised if its launch coincides with Intel's Raptor Lake breaching into Q4 of this year.
To me Zen 3D is dead before arrival as the AM4 platform withers away and dies without grace or dignity, as AMD usher in the next generation Zen 4 based on an undisclosed 5nm processing node.
The next generation of AMD Ryzen CPU's will are to be utilized on the new socket AM5 platform featuring an LGA socket design with 1718 pins, with support for next-gen DDR5 memory which at the current moment is bound to die weeks after purchase, and PCIe Gen 5.0 support as well.
And that wraps up AMD's CES 2022 presentation, packed to the brim with just about everything, GPU's, CPU's and BGA mobile cancer as well. However it's not really how much you show but what exactly you do showcase and for AMD this year their CES keynote was seriously underwhelming in the excitement department.
Tons of trash and corporate scheming are a few solid options to describe the presentation, the DIY PC market looks dire, perhaps things will start to change by the end of the year once Zen 4 is available?