AMD Announces Radeon Super Resolution – Driver Level Upscaling & FSR 2.0 Update Promising Superior Image Quality
Just for those who still don't quite believe that NVIDIA's proprietary DLSS technology is dead well here you bloody go.
AMD have announced two new tricks up their sleeves when it comes to aiding peasantry mental midgets achieve greater performance out of their graphics cards through means of upscaling.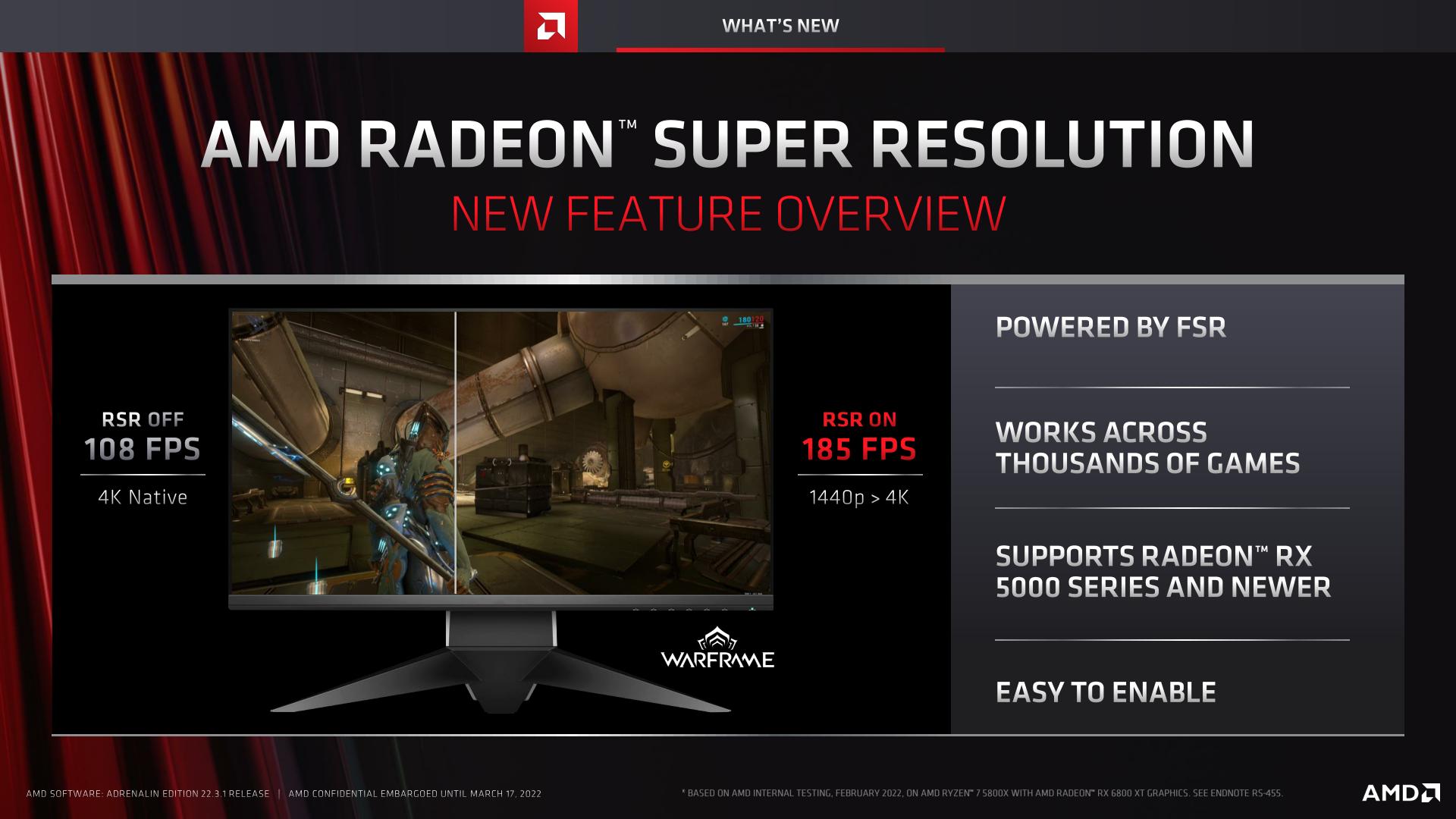 In AMD's Adrenalin 22.3.1 update there will be a major addition in the form of RSR or Radeon Super Resolution which will incorporate FSR 1.0 on a driver level, what this essentially means is that gamers utilizing RDNA based graphics will be able to enhance performance across basically ones entire PC library, the sky is the limit.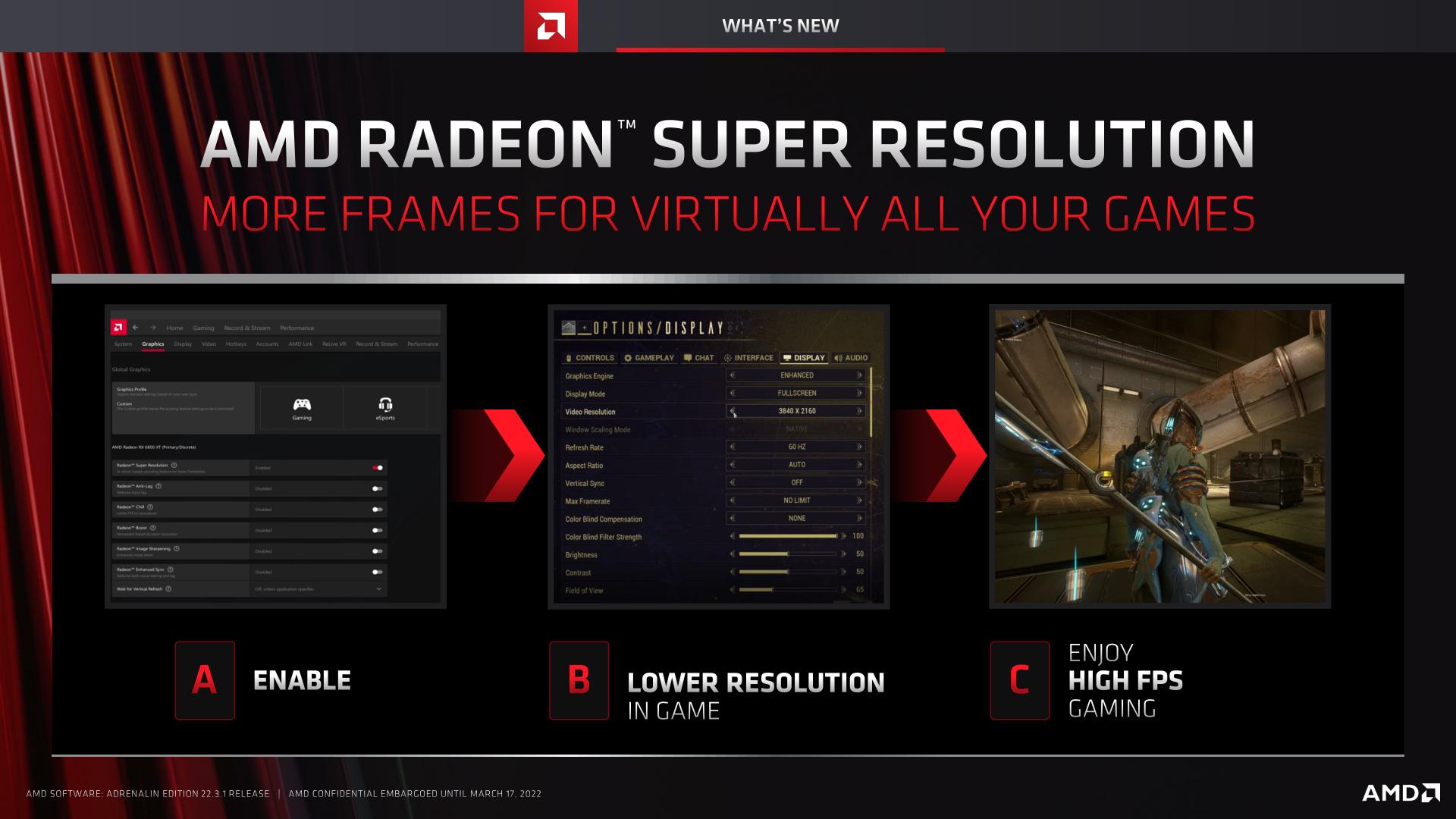 Gaymers will soon be able to enjoy their beloved pozz-filled cinematic marvels without having to resort to admitting that their current equipment just isn't up to standard because upscaling techniques such as FSR is merely a means of allowing game developers to continue doing a shoddy job when it comes to PC optimization.
Radeon Super Resolution can be set using the AMD Radeon Software utility either by a per-game basis or universal setting, it works best with games set to fullscreen but can also work with borderless fullscreen.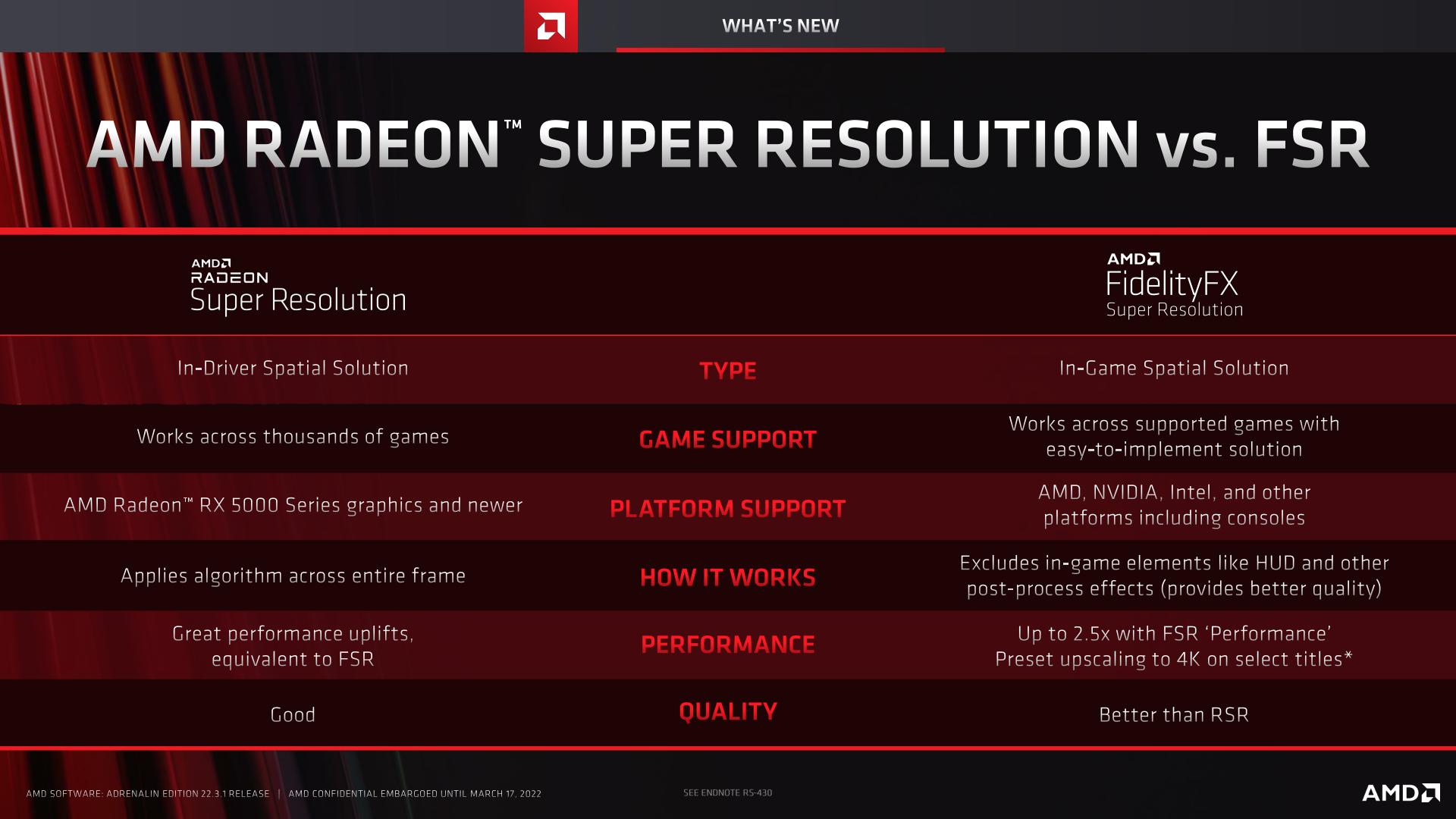 Unlike AMD's FSR technology, RSR of course given that it's on a driver level isn't as effective in terms of performance and quality as opposed to FidelityFX Super Resolution and will only work with RDNA based graphics cards.
Speaking of AMD FidelityFX Super Resolution, that too will be given a massive overhaul with the "FSR 2.0" update which dons away with modified lanczos upscaling techniques with temporal based upscaling instead.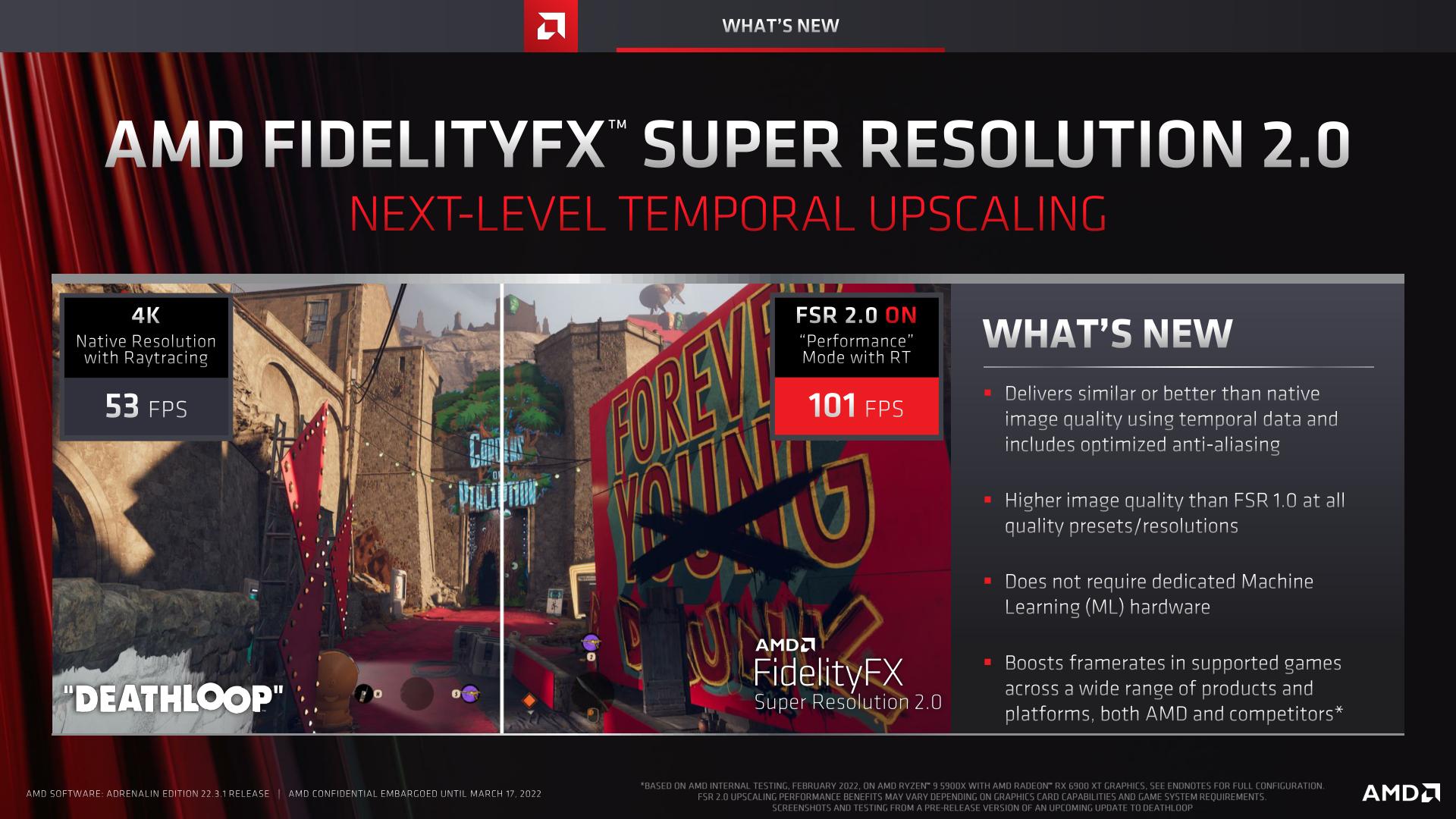 AMD's FSR as a whole has been met with a rather positive reception from disgruntled 4K pleblets worldwide as AMD FSR is much easier to incorporate into modern games in comparison to proprietary solutions such as NVIDIA's DLSS of which the company effectively commissions developers into incorporating.
AMD's FSR despite being released for such a short amount of time as opposed to the staple of DLSS has been supported in over 70 different titles and is already become a staple with modding communities. AMD's FSR technology has been successfully incorporated on Linux with DXVK and Proton allowing the technology to be utilized over thousands of games, but also FSR is being utilized in emulators such as the Sony PlayStation 3 emulator "RPCS3".
AMD's FSR 2.0 update is hilariously marketed as the staple of being "better than native", as FSR 2.0 promises to offer a superior image quality over the standard 1.0 while still avoiding the requirement of machine learning hardware meaning that the utilization and transition over to FidelityFX Super Resolution 2.0 will be rather effortless as standard hardware requirements remain the same as 1.0
And as you can see from this heavily zoomed in comparison of Deathloop between FSR 1.0 and 2.0 utilizing the "Performance" preset of 1080p upscaled to 4K you can clearly see that the temporal upscaling technique that comes with FidelityFX Super Resolution 2.0 has a dramatic effect on the overall image quality in comparison to 1.0.
AMD themselves have released a comparison video highlighting the clear advantages that FSR 2.0 will provide over the initial release of FidelityFX Super Resolution with side by side comparisons being made from 1.0 to 2.0 versus 4K native.
AMD's announcement of FSR's 2.0 update and RSR is merely but a teaser for what's to come as AMD will be hosting a "Next-Generation Image Upscaling for Games" event during GDC next week.
But unfortunately we won't be receiving the FSR 2.0 update until sometime next quarter.